Poached Seabass With Cauliflower Puree

In a survey conducted by the Academy of Nutrition and Dietetics, parents ranked highest as nutrition role models by kids below 12. However, the majority are unaware that their children look up to them to develop a healthy lifestyle.
Here are some tips to boost a child's nutrition knowledge:  
Try new healthy foods or recipes regularly. A lot of parents choose to cook what their children love the most because the children refuse to try new food. This will limit the child to explore more food variety. The tip here is to try and modify the new food and present it using different cooking methods. Parents should never give up trying to introduce new healthy food to their children even if they reject it the first time.
 
Let the kids serve themselves and learn food preparation. The Nutrition Society of Malaysia encourage parents to cook together with their children. Food experts encourage parents to bring their children grocery-shopping as well. Thus, parents can teach their children how to read nutrition labels and understand better the healthy ingredients from different food groups.
Chef Mahmor Abas from Columbia Asia Hospital - Iskandar Puteri presents a simple dish that can be prepared by kids under parental guidance and supervision.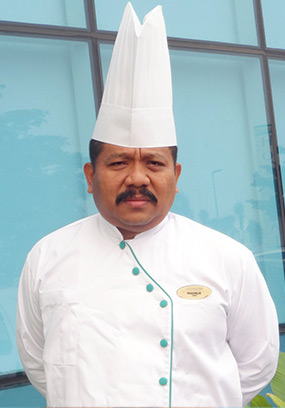 Q: Share with us your experience in cooking with children.
Chef Mahmor: From my tenure in the hotel industry, I have experience participating in kids cooking classes whereby we teach children how to prepare simple dishes. I also enjoy spending time cooking at home with my kids.

Q: How safe is it for kids to be cooking?
Chef Mahmor: It is safe as long as they are well-supervised by adult to ensure their safety.

Q: What dish will you be introducing to us today?
Chef Mahmor: Poached seabass with cauliflower puree. This is a healthy recipe. It only takes around 20 minutes to cook.

Q: In its preparation, which cooking method is involved?
Chef Mahmor: Poaching is the main cooking method for this dish. Poaching means submerging food in liquid (stock) in low temperature (relatively low temperature compared with simmering and boiling).
Recipe
Poached Seabass with Cauliflower Puree
| | |
| --- | --- |
| | Serves 10 |
Ingredients:Poached Seabass
½ medium Carrot­­
­­½ stalk Celery
­­½ medium Zucchini green
­­1 tablespoon Olive oil
­­½ teaspoon Fennel seed
­­½ teaspoon Parsley, chopped
3 cups Water
­­4 pieces Seabass fillet (approximate 120gram per fillet)
­­Lemon juice, to taste
­­Salt, to taste
Pepper, to taste
| | |
| --- | --- |
| | Method |
Cut vegetables into cubes.
Heat oil in sauce pan. Add vegetables and season with salt and pepper.
Cover and cook for 5 minutes over low heat.
Remove vegetables from pan and set aside.
Add water to sauce pan. Season with salt and pepper and boil for 8 minutes over low heat.
Add seabass into pan. Simmer for 6 minutes over low heat. During cooking, turn seabass once.
Put back the vegetables into the pan for 2 minutes (before seabass is fully cooked).
Remove the cooked seabass from pan (the seabass is cooked when flesh feels firm to touch). Sprinkle with lemon juice and serve with vegetables.
Puree of Cauliflower
­­1 small Cauliflower
­­1 ½ cup Potatoes, mashed
­­3 tablespoons Unsalted butter
2 tablespoons Low fat milk
­­Salt, to taste
Pepper, to taste
| | |
| --- | --- |
| | Method |
Remove and discard outer leaves from cauliflower. Wash and cook the whole cauliflower in salted boiling water (core side down). Cook for approximate 15 minutes depending on size.
Remove cauliflower and drain the water. Divide into large florets and force through sieve into bowl.
Place pureed cauliflower into sauce pan and cook on very low heat for 3 minutes.
Add mashed potatoes, unsalted butter and low fat milk. Season with salt and pepper. Mix well and serve together with seabass.
Nutrient Content (per serving):
Calorie (kcal) - 303
Protein (g) - 27
Fat (g) - 15
Carbohydrates (g) - 15
Sodium (mg) - 203
Fibre (g) - 3
Recipe prepared by:
Chef Mahmor Bin Abas
Columbia Asia Hospital - Iskandar Puteri
Nutrition information by:
Kong Woan Fei
Dietitian
Columbia Asia Hospital
Follow us for latest Health Tips:
Theo dõi chúng tôi để biết các Mẹo Sức khỏe mới nhất: