Columbia Asia Binh Duong Hospital benefits from an extensive list of both internal and local insurance providers who work with the hospital to deliver "cashless" direct billing services. We are constantly expanding the network to assist customers for examination and treatment services in the most convenient and fastest way. If you are covered by an insurance company which is a member of our Direct Billing Network, the hospital will claim to and receive funds directly from your insurance company.
Please refer to the list of companies with which CAHBD has a direct billing agreement
HERE
DIRECT BILLING PROCESS
Here is our Direct Billing Process at Columbia Asia Binh Duong hospital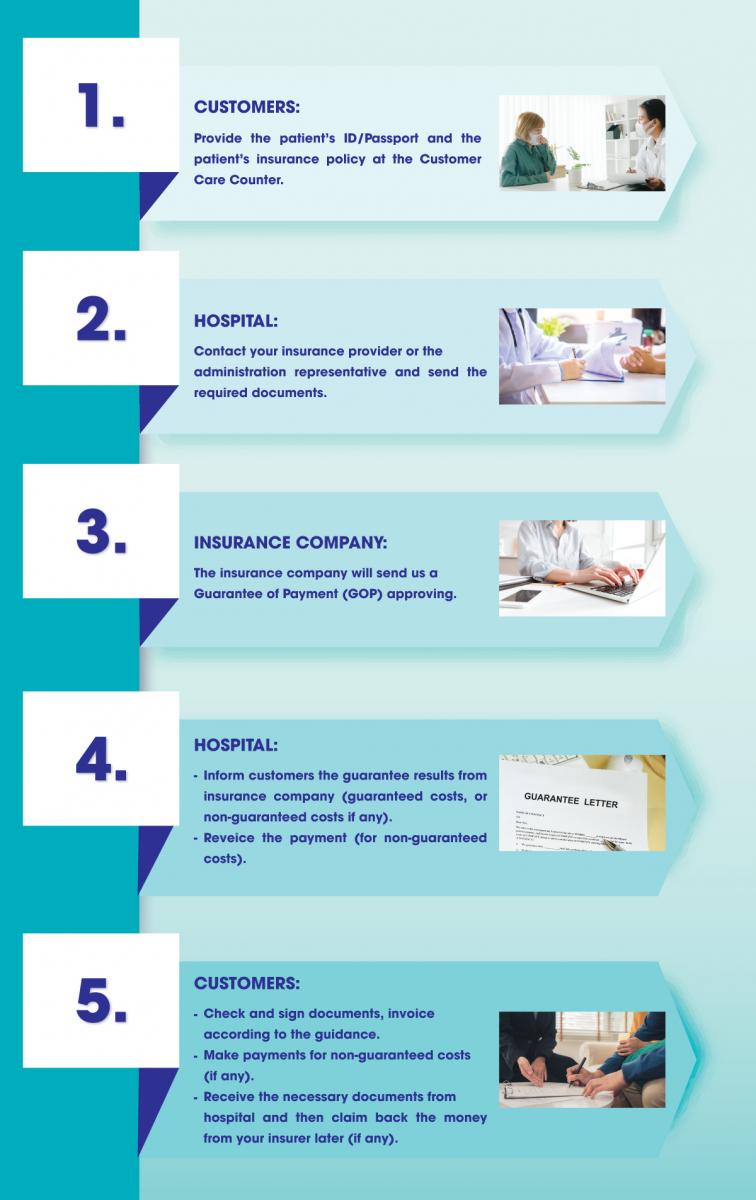 Some notes:
The above is the direct billing process for admission. 
Admission or Emergency service: the customer is required to deposit while waiting the response from the insurance company. We usually obtain the GOP within 4 to 48 working hours after sending the required documents to the insurance company or to its administration representative. The hospital will refund the advance payment to the customer according to regulations. If your insurance company is not a member of Columbia Asia Binh Duong Hospital Direct Billing Network, you will be required to pay in full. The Insurance Office will be happy to help you gathering documents and completing claim forms for you to be reimbursed.
If you register for a consultation or for other outpatient services, the billing procedure will depend on the type of card you hold. The billing procedure normally takes 30 minutes after the doctor completes the examination and makes a medical report and prescription. Direct billing is not possible for outpatient services when your insurance company is not part of Columbia Asia Binh Duong Hospital Direct Billing Network.  
-------------------------
COLUMBIA ASIA HOSPITAL - BINH DUONG
22/12 Street, Hoa Lan, Thuan Giao, Thuan An City, Bình Dương Province
Hotline: 0274.381.9933
Emergency: 0274.381.9999